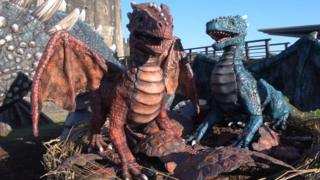 Two 6ft (1.83m) animatronic models of baby dragons have "hatched" from giant eggs outside Caerphilly Castle.
The twins are the latest addition to Cadw's family of dragons along with proud parents, Dewi and Dwynwen.
They have been brought to life by Cardiff-based prop designers Wild Creations.
The twins and Dewi and Dwynwen, which weigh two tonnes each, were sculpted and moulded before being cast and built out of fibreglass.
They are expected to spread their wings and drop in to other castles across Wales this summer.with