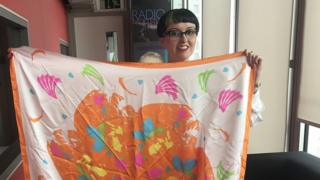 When Kirsty Stevens was diagnosed with multiple sclerosis 10 years ago, she admits that she thought her life was over.
But the designer from Fife has worked hard to "turn a negative into a positive".
She is using the shapes and pattern from her own MRI scans – which highlight the lesions on her brain – to create a unique line of jewellery, silk scarves and screen prints.
And her work has caught the attention of the people behind the new V&A Museum in Dundee, which is due to open next year.
She is one of a series of inspirational artists made design champions for the museum.
Interviewed on BBC Radio Scotland, the 31-year-old told the Kaye Adams Programme that she was "amazed" by the honour.
Ms Stevens was diagnosed with the degenerative condition when she was in her third year of a jewellery and metal design course at Duncan of Jordanstone College in Dundee.
"It first began when I was studying," she said.
"My eye sight in my left eye went fuzzy which then led to not being able to see out of it at all. My balance was off, I wasn't quite with it."
She added: "Over the months I got more relapses, the nerves in my face went a little bit funny – I could feel them twitching – my eye went a bit funny again.
"Then all of a sudden, they diagnosed me with MS, which I wasn't expecting at all. Because I had no clue what it was really, I thought it was an old person's condition."
It was a terrible shock for the student who had just turned 21.
She said: "I thought that was my life over, I was going to end up in a wheelchair, I wasn't going to be able to do anything for myself but it's not like that," she said.
"It affects everybody differently but I'm one of the lucky ones, I've not been affected as badly as I could have been.
"Fatigue is the main thing for me. It just hits you out of the blue and your whole body just feels exhausted so you just think 'okay I'm not doing anything today'.
"And also if I'm stressed or tired again my cognitive functions – like speech – I can't think of the one word I need to say, or whatever."
'Beautiful patterns'
After taking a year out to come to terms with the diagnosis, she started searching for ideas for projects for her final year.
She said: "I read in a magazine for future trends that it was all about science and I thought – how can I use that? I could use me – a little bit self-obsessed!
"So I went to my MS nurse and asked for my MRI scans. She was a bit confused and I explained that I just wanted to make beautiful patterns and design jewellery from them and to raise awareness of MS."
Her work includes an "emperor brain moth" necklace, which is made using a scan of her entire brain.
She mirrored it, flipped it upside down and created a moth-like shape, with eyes made from the lesions.
"I'm making positive out of those nasty little things," she said.
"Each scan is a slice through my brain. I think there are 30-odd images but they are all so different and you can see these white blobs which are the lesions – and I just take those shapes and play about with them and create beautiful things.
"I'm really amazed by some of the beautiful patterns that I can make from it."
Ms Stevens added: "When I was first diagnosed, I was embarrassed, I didn't want to tell people, I was kind of ashamed, which is really silly.
"Now I'm proud to be able to tell them that I've made this from a debilitating condition and I hope it also inspires other people with MS as well."