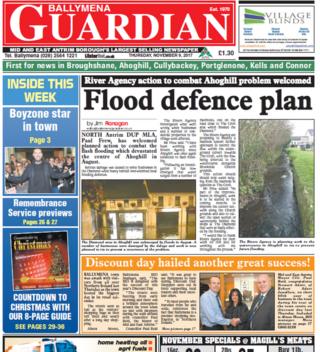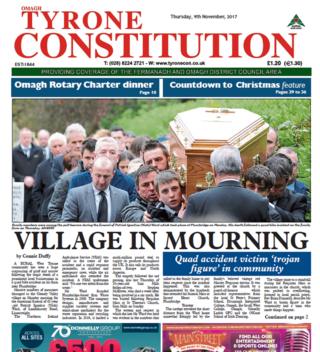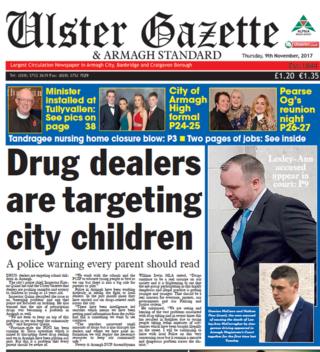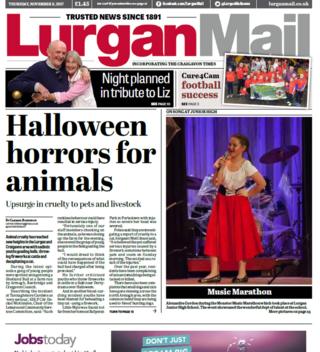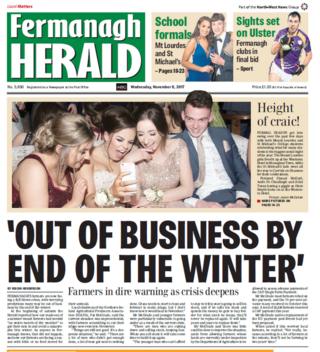 In the week following the closure of the JTI plant in Galgorm, County Antrim, the Ballymena Guardian has published a thought-provoking letter from a teenager whose father spent his life working at the factory.
The closure marks the end of UK-made cigarettes and the end of an era for many from the area and beyond.
More than 800 people were employed by the Japanese firm.
Ruth Douglas, a Queen's University drama student, penned a letter in the paper for the first time in 2014, when the closure was first announced.
Three years later she has written again, taking a look back at the factory's journey to closure, and her family's place in the story.
'Cannabis and ecstasy'
"While the last machines are being shut down and the last office doors closed, I must wonder why?" she writes.
Also in the Ballymena Guardian, there's a plan to defend against future flooding in Ahoghill.
The town was "devastated" by flooding in its centre in August and a number of businesses were damaged by the deluge.
The paper reports that an investigation into the flooding found water had surged into a number of manholes.
The Rivers Agency are now proposing to modify the manhole system to protect the town in future.
In the Ulster Gazette there's a warning from police which "every parent should read".
Armagh's police chief, Insp Kieran Quinn, has told the paper that drug dealers are pushing cannabis and ecstasy to children as young as 14.
'Shock and sadness'
He described the issue as an "emerging problem".
"It is frightening to see that the age group participating in this highly dangerous and illegal practice is getting younger and younger.
"That should be a real concern for parents, our government and police board."
Later in the paper there is shock in Tandragee over the closure of a care home.
The paper reports that residents of the Rathoween Care Home are looking for new accommodation following the decision to close the centre.
The trust says it has appointed individual key workers to help individuals find new places to live.
Cusher councillor Paul Berry told the Ulster Gazette: "My heart goes out to all affected.
"It was with real shock and sadness that I heard the news."
'Head severed'
"Horrors for animals" is the headline in the Lurgan Mail as the paper warns of an apparent upsurge in cruelty to pets and livestock.
The report describes an incident in which a group of young people were spotted antagonising a bull.
The incident follows the death of a cat that is believed to have died of injuries as a result of a firework.
Mylo was found not far from her home at Ballyoran Park in Portadown with injuries so severe her head was severed.
Police said they are investigating a report of cruelty to a cat.
There have also been reports of cats and dogs going missing across the Armagh area.
Also in the paper is the news that Armagh, Banbridge and Craigavon council have introduced an app to help them tackle fly-tipping.
The app is called Bin-Ovation and allows users to report fly-tipping with messages and pictures.
In Fermanagh, a rape crisis charity has reported being "inundated" with calls in the wake of the harassment and assault scandal which has engulfed Hollywood.
Actors such as Kevin Spacey and and Steven Seagal have been accused of sexual harassment. Both have denied the allegations.
Cara Crash, chief executive of Nexus, told the Fermanagh Herald that while the news may seem "a million miles away", the charity's centre in Enniskillen has seen a rise in referrals.
"We see this is a positive thing as it means more victims are starting to feel like they can come forward for support," she said.
Councillor Diana Armstrong said the scandal meant the issue was being talked about more openly and said it presented an opportunity to educate young people.
Now, obviously it is illegal to drive too quickly, but one man in Roslea, County Fermanagh, has been fined for driving too slowly.
Seamus McCaffrey, 41, of Church Street, Roslea, admitted driving carelessly when he pulled out of a junction too slowly, causing the police car driving towards him to brake sharply.
He was ordered to pay a fine of £250 and was given four penalty points.
In the Tyrone Constitution, there's the appointment of a new head teacher and the retirement of a "popular" GP.
'Plagued with street drinkers'
After many years of holding an acting role as principal, Ruth Eiken is "delighted" to be officially confirmed as Omagh High School's permanent principal.
Mrs Eiken has been employed by the school for 36 years, the paper reports.
"The school has always been a huge part of my life," she said.
"I have always treated the people at this school as my family.
"It is always lovely to hear how past pupils are doing – and now it is their children who are attending the school."
In Ballygawley, Dr Theo Nugent has "decided to bow out", the Constitution reports.
Dr Nugent has been working in the town since 1989 and is known for his warm personality.
"It has been a great privilege to serve the area," he said.
'Plagued with drinkers'
There's a warning on the Derry Now website about how the city is "plagued with street drinkers".
A judge told the court unlike other European cities he has visited, Londonderry city is "plagued with troublesome street drinkers".
He was handing down a sentence to a man and woman for disorderly conduct in a public place.
"The problem is not just them, there was a large group of street drinkers causing trouble in that car park. This city is plagued with troublesome street drinkers," he said.
"I have been to many cities throughout Europe and I have not seen this, it is becoming an increasing problem.
"The message has to go out that if they behave in this way they should expect a custodial sentence."