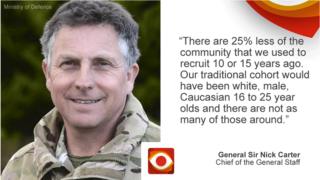 The claim: There are 25% fewer white men aged 16 to 25.
Reality Check verdict: We cannot find any statistics to back this up, and between 2001 and 2011 the number of white British men aged 16 to 24 rose 8% in England and Wales.
Head of the Army Gen Sir Nick Carter was on BBC Radio 4 on Wednesday morning talking about the Army's new recruitment campaign.
He said the Army had to try to appeal more widely across society because "there are 25% less of the community that we used to recruit from 10 or 15 years ago".
"Our traditional cohort would have been white, male, Caucasian 16- to 25-year-olds, and there are not as many of those around," he added.
The Reality Check team cannot find any figures to support this claim.
The only reliable data set that breaks down population by age, gender and ethnic group is the census, which is conducted every 10 years.
The most recent one was in 2011, which found that there were 2,589,940 people identifying themselves as white British men aged between 16 and 24 in England and Wales.
That was an increase of just over 8% from the figure in the 2001 census.
That makes it extremely unlikely that the figure for white men aged 16 to 25 in the UK will have fallen 25% in 10 to 15 years.
We also contacted the Army to see if it could cast light on the claim, but it has yet to respond.
More staff needed
The Army does need to recruit more staff if it is to meet government targets.
The Conservative Party's 2015 manifesto said: "We will maintain the size of the regular armed services and not reduce the Army to below 82,000."
That did not happen, as this chart shows.
In the 2017 manifesto, the pledge had been changed to "We will maintain the overall size of the armed forces, including an army that is capable of fielding a war-fighting division."
At the time of the election in June, the figure for all UK forces service personnel – including the Army, the Royal Navy and the Royal Air Force – was 196,399. The most recent figures we have are for October that year, when the number had fallen to 195,732.