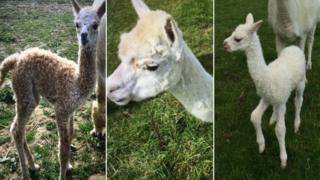 The owners of three alpacas that were beaten to death have said they are "heartbroken" by the attacks.
Pleasance and Gabriella were killed in the first attack, which took place on 6 January. The next day four-month-old Ragamuffin was found dead.
The animals were attacked in their shelter on a farm in Little Kingshill, Great Missenden, Buckinghamshire. They all suffered blunt force trauma.
Owners Lesley and Andrew Sapsford are now worried for their other 80 alpacas.
'Sickening act'
Mrs Sapsford said: "We can't believe that anybody would be so cruel.
"We're so worried about our other alpacas now. We can't process the evilness of it all."
A spokeswoman from the RSPCA, which is investigating the attacks, described the killings as a "sickening act of cruelty".