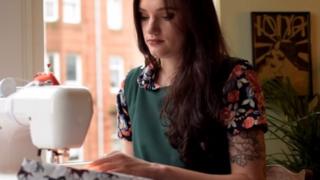 Iona Barker was sewing before she could write but her talent was not encouraged at school. She is now on a mission to get as many people as possible to share her "passion".
Iona told BBC Scotland's Kaye Adams programme academic subjects and exams were a struggle but when she picked up a needle and thread her creativity was unleashed.
Her school did not view sewing as a talent that would bring her success and she was "gutted" it would not allow her to pursue it.
But she left her school in Castle Douglas, south-west Scotland, at the age of 15 determined to make a career out of her skills.
In the years since she has worked as a costume designer for Burlesque shows, a wardrobe supervisor for theatre shows and a stylist for touring music artists such as Beyonce and Miley Cyrus.
For the past seven years the 32-year-old has been fighting a battle to get people hand-sewing again with her Say It Ain't Sew workshops, which are running in all Scotland's cities.
Iona says she began the classes when she heard that sewing was being phased out of the curriculum in Scotland.
It was viewed as outdated and twee, she says.
She set about changing its image and using sewing "as a tool to reduce social isolation, improve, cognitive skills and increase mental wellbeing".
The free workshops start with basic sewing but can move on in difficulty for people who are more adept.
"I teach everyone from primary school kids to 90-year-olds," she says.
"We have got a lot more men coming along to classes than we did.
"We have broken that tradition of it being something old spinsters do."
Iona says school was a "negative experience" because it was too focused on academic results and did not recognise her creative talent.
"When I left school I wanted to go to art school and I was laughed at," she says.
"I believe there is this general thought that if you are creative you can't be successful or have a business or work in industry," Iona says.
"It is totally ridiculous because it means you think creatively so you can problem-solve more efficiently and effectively.
"It helps with so many different things."
Iona went to art school in Dumfries and was accepted at Glasgow Caledonian University to do fashion and business studies.
"I didn't do so great at the academic side but I managed to get my degree, moved down to London for a wee while and worked in the fashion industry," she says.
After spending seven years in the high-paced world of costume design she turned back to the simplicity of sewing as a "tool to help myself get out of my London stress".
"I thought 'if this is working for me how many other people can this work for?'
"So I started a sewing club in a bar in Glasgow and seven years later it is all over Scotland."
Iona says sewing and knitting are "universal skills that can cross languages and boundaries and cultures".
She believes schools should nurture these skills and put them on a par with other academic subjects.
As well as boosting creativity and self-esteem they can also help people cope with difficult situations, she says.
When she was a child she would always take up her needle and thread if she had suffered a bad day or had a disagreement with her parents.
"I would just create something and it would make me better about myself," she says.