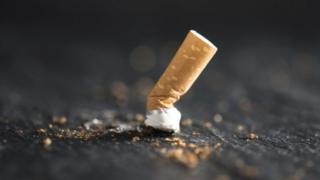 A new national campaign will target adults who buy young people tobacco – in a push to reduce the harm of smoking.
In Scotland, 36 young people take up smoking every day.
Most children who smoke will get their cigarettes from family members or friends.
The campaign, developed by Action on Smoking and Health (Ash) and supported by Scottish government funding, is called "not a favour".
The number of young people smoking in Scotland has fallen to its lowest level since surveys began, after measures such as banning tobacco advertising, price increases and raising the age of purchasing cigarettes to 18.
The Not a Favour campaign will make clear that helping underage people buy tobacco will lead to addiction and subsequent health issues.
The campaign website will host free campaign materials for use by retailers, health and community groups and others requiring help or information.
Addiction problems
Public health minister Aileen Campbell said: "We know that young people get hold of cigarettes mainly from their family and friends. That's why it's important to target this group and remind them that smoking can lead to health, money and addiction problems.
"We also know that the younger people start smoking, the harder they find it to give up later in life, so we really want to keep tobacco out of the hands of young people.
"We all want the best for our children and young people and this campaign serves as a reminder that an easy-going attitude towards the culture of supply to children has got to stop."
The Scottish government aims to have a "smoke-free generation" in Scotland by 2034.
A government report stated there had been a reduction in cigarette brand awareness in young people, which was attributed to products being moved from view.
Sheila Duffy, chief executive of Ash Scotland, said: "Most people who smoke started as children and the great majority now say they regret it.
"We want to see a Scotland where the only people smoking are the small number of informed adults who actively choose to do so.
"That means getting everyone to understand that we should keep tobacco out of the hands of young people."