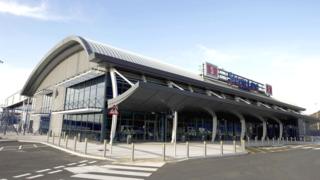 Ferry firm Stena Line has said repeated road works on the route to its Loch Ryan port are having a "debilitating" effect on its operations.
It comes after the latest overnight closure of the A77 on Monday which it said caused in a 75-minute detour for traffic using its services.
Trade Director Paul Grant said the route needed major investment.
Transport Scotland said it was doing its utmost to minimise disruption during landslip repairs in the area.
Stena Line said there had now been five closures of one of the main arterial routes to the "UK's third largest port gateway" this year.
Mr Grant said: "Whilst we appreciate that remedial work needed to be carried out on this section of road due to a previous landslip issue, the cumulative effect of ongoing disruptions is becoming more and more debilitating on our day-to-day port operations at Loch Ryan."
'Piecemeal tweaks'
He said the firm had voiced concerns to the Scottish government a number of times asking them to prioritise an action plan for improvements on the route and the A75.
"The simple fact of the matter is that this economic driver for the south of Scotland has not attracted the level of road infrastructure investment it should have done over the years," he said.
"The time has now come to find a long-term solution rather than piecemeal tweaks which fail to address the root problem, accessibility.
"Poor road access and poor rail connections continue to impede the Scottish economy."
He said Loch Ryan was in danger of being "left behind" by other major ports in the UK which had already seen sustained infrastructure investment.
A Transport Scotland spokesman said the current work was essential and would help "improve the resilience" of the A77.
He said Transport Minister Humza Yousaf had been discussing future investment this week and was meeting the A77 action group next week.
He added that it had also offered to have talks with Stena Line.
"We fully recognise the key routes to our ports are essential to connect businesses to the marketplace and support the local, regional and national economies," he said.
He said that was why they were taking forward £30m plan for a Maybole bypass, had delivered "substantial improvements" at other sites and invested nearly £50m in maintaining the route since 2007.
He said significant sums had also been spent on the A75.